Team Hope Walk is now a Scavenger Hunt
October 17, 2020
THW is our largest grassroots fundraiser of the year and last year we had more than 300 walkers and raised over $100k. And it's not just about the fundraising. We were able to raise awareness for HD throughout our community and we want to accomplish both of these goals with our scavenger hunt.
Why are we hosting a scavenger hunt?
It's a safe activity that will bring our community together and allow us to connect during a time when connections are so challenging to maintain. And because it's fun. You are your team will be asked to take part in fun photo challenges, learn about HD & HDSA to answer our trivia questions, and you may even be asked to sing a song :). The more challenges you complete, the more points you score and the more likely you are to win one of our top prizes.
How does it work exactly?
On the day of the hunt, you get access to the scavenger hunt on the Scavify App. You will see the list of tasks you are being challenged to complete and the scores of all other teams. Use your smart phone camera to upload photos and videos as proof that you have completed the challenges. The challenges can be completed anywhere in the world - you do not have to leave your neighborhood - and they will not be physically challenging, ie. we are designing this with our HD community in mind.
What are the prizes?
Estate planning package worth over $2,000
Fitness basket including Apple AirPods!
Thule Bike roof rack
Jewelry
Restaurant gift cards
Golf rounds

---
---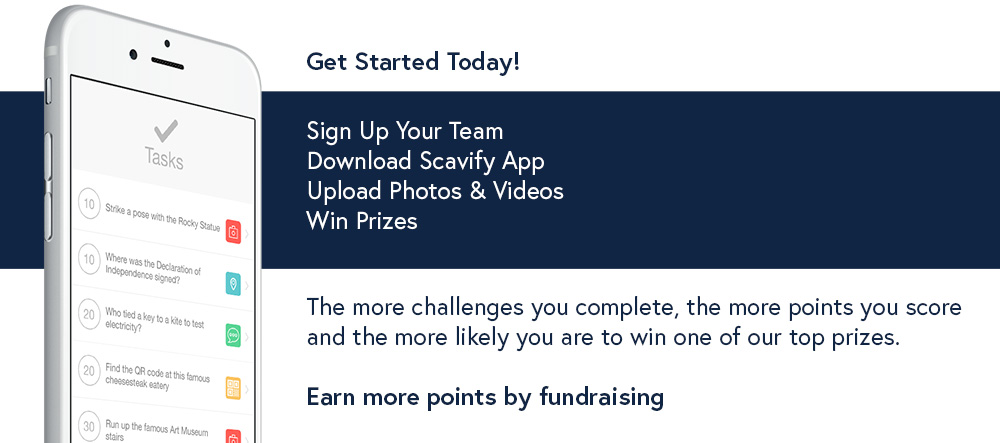 ---
How do I register?
Register as a team or and individual at: https://app.donorview.com/zAVbr. You can have as little as one person on a team and as many as 6. A family team is 4 people.
How does the scavenger hunt benefit HDSA?
Fundraising totals and sharing the fundraiser on social media will earn teams extra points. The more money a team raises, the harder it will be to beat them.
2020 is challenging for everyone, including HDSA.
With lots of fundraisers on hold or canceled, HDSAs budget has taken a serious hit. And because of that it is more important than ever to raise money for HDSA. Every dollar counts! Please help us fill the gap.
---
Create Your Team
Team Registration Directions PDF
---
---
What is the Huntington's Disease Society of America?
The Huntington's Disease Society of America is the premier not-for-profit organization dedicated to improving the lives of everyone affected by Huntington's disease. From community services and education to advocacy and research, HDSA is the world's leader in providing help for today, hope for tomorrow for people with Huntington's disease and their families. To learn more, please visit www.hdsa.org.
What is Huntington's Disease?
Huntington's disease is a fatal genetic disorder that causes the progressive breakdown of nerve cells in the brain. It deteriorates a person's physical and mental abilities usually during their prime working years and has no cure. Every child of a parent with HD has a 50/50 chance of inheriting the faulty gene that causes the disease. Today, there are approximately 40,000 symptomatic Americans and more than 200,000 at-risk of inheriting the disease. Huntington's disease is described as having ALS, Parkinson's and Alzheimer's – simultaneously. HD is characterized by a triad of symptoms, including progressive motor dysfunction, behavioral disturbance and cognitive decline.